Double the Love, Double the Peace, Double the Fun.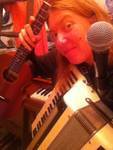 The Home Sweet Home Show
December 26, 2011 11:00am
After over two months of being on the road, Japa is back! and excited to be broadcasting from good ole home sweet home!!

Best of all, she is reunited with her gang of instruments, and stoked bring you a show of live music all done with all the instruments that have been holding down the fort while she has been gone.

This hour we'll hear a number on the piano, a song with the Ukulele, 3 with Arthur the accordion, the bass, more piano, and finale with Har Jank Singh.

Have your volume dial handy to compensate for Radio Bob's lack of technical skill in keeping levels even.

Meanwhile, enjoy Mozart, old time favorites whose composers are unknown, and a special Japa original made famous with her rock band "Eating Like Truck Drivers" - Awesome!

**Technical footnote - NO guitars were harmed, strummed, molested or touched during the production of this show.

*************another Technical footnote - a bit of an oversight...one instrument in the hut that was *not* played during this show was the PF (penis flute) - but hopefully we will make up for that during the next Home Sweet Home show...because certainly there needs to be another one...soon!